BATMAN AND ROBIN (1949)
Títulos en español
:
-
VUELVE EL HOMBRE MURCIÉLAGO
(Argentina)
-
VUELVE EL HOMBRE MURCIÉLAGO
[Reestreno: 1967] (Argentina)
Dirigida por
:
Spencer Bennet
Protagonizada por
:
Robert Lowery
John Duncan
Jane Adams
Lyle Talbot
Ralph Graves
Estudios
:
Columbia
(Prod.-Distr.)
País
:
EE.UU.
Estreno
:
26 de Mayo
de 1949
Estreno en Argentina
:
3 de Diciembre
de 1953
Duración
: 263'
Género
:
Serial

Títulos alternativos:
- NEW ADVENTURES OF BATMAN AND ROBIN, THE

Reseña Cinefania.com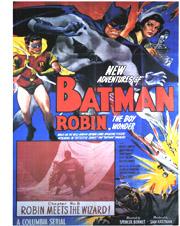 Comprar DVD (subtitulos en castellano)
Reseña
: Un aparato invención del prof. Hammil, que permite controlar cualquier automotor en un radio de 50 millas, es robado por "El Brujo", un siniestro villano de turno. Son los dinámicos Batman y Robin los encargados de prevenir un robo de diamantes y de rescatar a la periodista Vicki Vale de las garras del maléfico Hechicero. En Argentina, la "Batmanía" instaurada por el estreno del filme de Adam West, motivó la reposición de este serial en versión íntegra, en el año 1967.
Episodios
:
1- BATMAN TAKES OVER
2- TUNNEL OF TERROR
3- ROBIN'S WILD RIDE
4- BATMAN TRAPPED
5- ROBIN RESCUES BATMAN
6- TARGET: ROBIN
7- THE FATAL BLAST
8- ROBIN MEETS THE WIZARD
9- THE WIZARD STRIKES BACK
10- BATMAN'S LAST CHANCE
11- ROBIN'S RUSE
12- ROBIN RIDES THE WIND
13- THE WIZARD'S CHALLENGE
14- BATMAN VS WIZARD
15- BATMAN VICTORIOUS [Cinefania.com]
Ficha Técnica

Reparto
Ver créditos
Robert Lowery
Robert Lowery
(1914-1971)
... Bruce Wayne / Batman
John DuncanJohn Duncan
(1923-2016)
... Richard Grayson / Robin
Jane Adams
Jane Adams
(1918-2014)
... Vicki Vale
Lyle Talbot
Lyle Talbot
(1902-1996)
... Comisionado Jim Gordon
Ralph Graves
Ralph Graves
(1900-1977)
... Winslow Harrison
Don C. Harvey
Don C. Harvey
(1911-1963)
... Nolan, un Secuaz
William Fawcett
William Fawcett
(1894-1974)
... Prof. Hammil
Leonard Penn
Leonard Penn
(1907-1975)
... Carter, Asistente de Hammil
Rick VallinRick Vallin
(1919-1977)
... Barry Brown
Michael Whalen
Michael Whalen
(1902-1974)
... Dunne
Greg McClure

Greg McClure

... Evans, un Secuaz
House Peters Jr.
House Peters Jr.
(1916-2008)
... Earl, un Secuaz
Rubros Técnicos
Dirección:
Spencer Bennet
Link Externos

Búsqueda