Paul Picerni
Haz un click para ver la imagen alternativa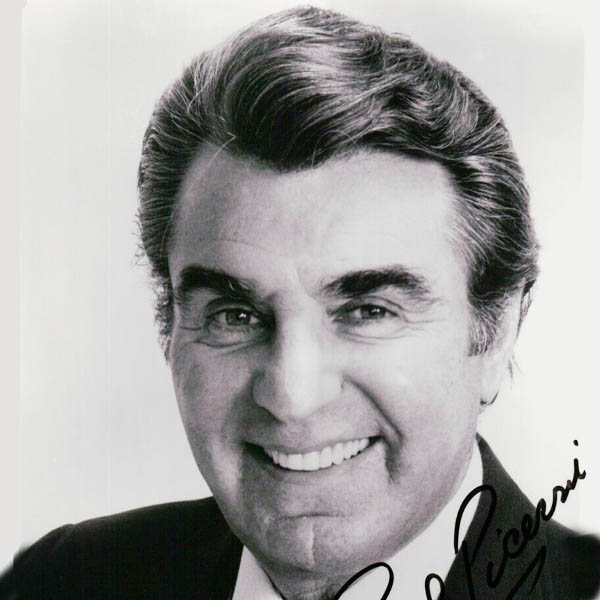 Biografía

Nombre verdadero
: Horace Paul Picerni
Nacimiento
:
1 de Diciembre
de 1922 (Corona, New York, USA)
Fallecimiento
:
12 de Enero
de 2011 (Llano, California, USA) [Ataque Cardíaco]
Buscar tumba

Picerni prestó servicio en la Fuerza Aérea durante la II Guerra Mundial y fue uno de los pilotos que bombardeó y destruyó el puente sobre el que más tarde se filmó THE BRIDGE ON THE RIVER KWAI (El Puente Sobre el Río Kwai-1957). De hecho, en algunas de sus primeras películas, TWELVE O'CLOCK HIGH (Almas en la Hoguera-1949), THREE SECRETS (Tres Secretos-1950) o BREAKTHROUGH (Abriéndose Paso-1950) encarnó a pilotos o soldados de la Guerra. Estando bajo contrato en Warner, coprotagonizó I WAS A COMMUNIST FOR THE FBI (Fui un Comunista para el F.B.I.-1951) y HOUSE OF WAX (Museo de Cera-1953). Llegó a aparecer en el trailer de THE BEAST FROM 20,000 FATHOMS (El Monstruo del Mar-1953) pero rescindió antes del rodaje y pasó a Universal donde apareció junto a Audie Murphy en TO HELL AND BACK (Regreso del Infierno-1955). Tras una serie de quejas de la colectividad italiana acerca del retrato negativo que los paesanos tenían en la serie THE UNTOUCHABLES (Los Intocables-1959/63), Picerni se incorporó como regular en el papel del agente Lee Hobson, a pesar que en el largometraje THE SCARFACE MOB (La Pandilla de Caracortada-1961) había encarnado a otro personaje. Intervino en THE BROTHERS RICO (Los Hermanos Rico-1957), THE MAN WHO DIED TWICE (1958), AIRPORT (Aeropuerto-1970), EL HACEDOR DEL MIEDO (1971), CAPRICORN ONE (Capricornio Uno-1979) e infinidad de episodios de las series más recordadas de la pequeña pantalla.
---
Ver biografías disponibles en la base de datos
:
A
B
C
D
E
F
G
H
I
J
K
L
M
N
O
P
Q
R
S
T
U
V
W
X
Y
Z

Filmografía parcial

Créditos actorales --<>-- Buscar carátulas de películas con Paul Picerni
All -- Movies -- TVmovie-Video -- TV Episodes
-
POWERS OF MATTHEW STAR 1/04 DAREDEVIL (1982) .... Pete
-
BEYOND THE POSEIDON ADVENTURE (1979) .... Kurt
-
INCREDIBLE HULK 3/43 CAPTIVE NIGHT (1979)
-
CAPRICORN ONE (1978) .... Jerry
-
KOLCHAK: THE NIGHT STALKER 1/13 THE PRIMAL SCREAM (1975) .... Hombre
-
McCOY 1/02 DOUBLE TAKE (1975)
-
BANACEK 2/12 THE VANISHING CHALICE (1974) .... Dtve. Ed Winslow
-
CIRCLE OF FEAR 2/19 THE GRAVEYARD SHIFT (1973) .... Dr. Richardson
-
IMMORTAL 1/14 SANCTUARY (1971) .... Klabo
-
HACEDOR DEL MIEDO, EL (1971)
-
AIRPORT (1970) .... Dr. Compagno
-
LAND RAIDERS (1970) .... Carney / Arturo [como H.P. Picerni]
-
OLD MAN WHO CRIED WOLF, THE (1970) .... Dtve. Green
-
SCALPHUNTERS, THE (1968) .... Frank
-
FUGITIVE 1/019 SEARCH IN A WINDY CITY (1964) .... Sgto. De Santis
-
EDAD DE LA VIOLENCIA, LA (1963) .... Gángster (como Los Intocables)
-
MEN INTO SPACE 1/35 INTO THE SUN (1960) .... Bob King
-
TV Serie: UNTOUCHABLES, THE (1959-1963) .... Lee Hobson
-
MAN WHO DIED TWICE, THE (1958) .... George
-
PERRY MASON 1/023 THE CASE OF THE ONE-EYED WITNESS (1958)
-
PERRY MASON 2/043 THE CASE OF THE SARDONIC SERGEANT (1958)
-
BROTHERS RICO, THE (1957) .... Gino Rico
-
SHADOW ON THE WINDOW (1957) .... Bigelow
-
ALFRED HITCHCOCK PRESENTS 02/060 NUMBER 22 (1957) .... Assissi
-
ALFRED HITCHCOCK PRESENTS 02/063 THE CREAM OF THE JEST (1957) .... Nick Roper
-
DIAL RED 0 (1955) .... Norman Roper
-
BOUNTY HUNTER, THE (1954) .... Jud
-
DRIVE A CROOKED ROAD (1954) .... Carl
-
PUSHOVER (1954) .... Hombre
-
SHANGHAI STORY, THE (1954) .... Mr. Emilio De Verno
-
BEAST FROM 20,000 FATHOMS, THE (1953) .... (solo en el trailer de la película)
-
HOUSE OF WAX (1953) .... Scott Andrews
-
CATTLE TOWN (1952) .... Pepe
-
MIRACLE OF OUR LADY OF FATIMA, THE (1952) .... Agitador
-
I WAS A COMMUNIST FOR THE FBI (1951) .... Joe Cvetic
-
DIAL 1119 (1950) .... Detective
-
LADY WITHOUT PASSPORT, A (1950) .... Italiano
-
SADDLE TRAMP (1950) .... Denver
-
KILLER THAT STALKED NEW YORK, THE (1950)
-
SECRET FURY, THE (1950) .... Dr. Roth
Links externos

Búsqueda