Eddie Parker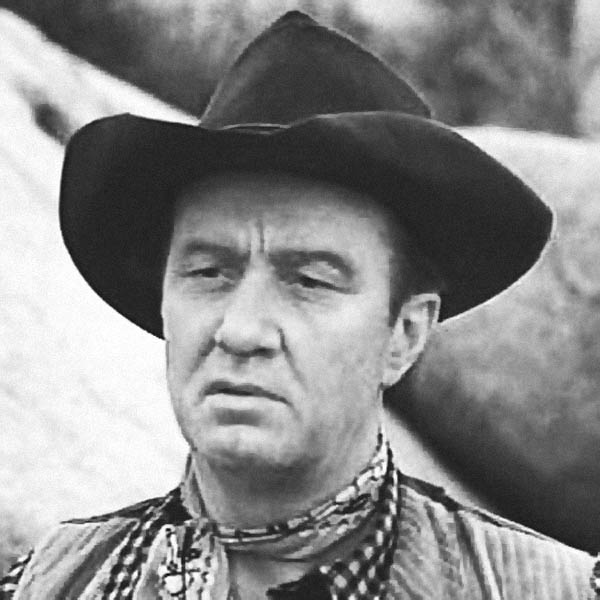 Biografía

Nombre verdadero
: Edwin Parker
Nacimiento
:
12 de Diciembre
de 1900 (Minnesota, USA)
Fallecimiento
:
20 de Enero
de 1960 (Sherman Oaks, California, USA)
Buscar tumba

Activo en las películas a partir de 1925, el actor y doble de riesgo Eddie Parker estuvo bajo contrato la gran mayoría de sus años en Universal. Su nombre es conocido para los fanáticos de los monstruos Universal a raíz de haber trabajado en muchos filmes de horror, realizando las escenas riesgosas de actores como Bela Lugosi, Boris Karloff y, especialmente, Lon Chaney Jr. Muchos rumores indican que Parker y no Chaney Jr. fue el verdadero actor bajo los vendajes de Kharis en la serie de películas de "Kharis, la Momia", en los años '40. También realizó doblajes en filmes de clase A, supliendo a actores como John Wayne y otros. En los '50 interpretó el papel del Sr. Hyde (el monstruo en que se convertía Boris Karloff) en la película ABBOTT & COSTELLO MEET DR. JEKYLL AND MR. HYDE (Abbott y Costello Contra el Hombre y la Bestia-1953) y tuvo a su cargo el papel de la Momia en ABBOTT & COSTELLO MEET THE MUMMY (Abbott y Costello Contra la Momia-1955). Su larga asociación con Universal casi llega a su fin luego de una disputa salarial, en 1954, durante la filmación de THIS ISLAND EARTH, en la que interpretó el papel de un mutante. Aparte de Universal, Eddie apareció en gran cantidad de seriales de la Republic de los años '40 y '50. Hacia el final, regresó a la Universal para encarnar a uno de los gladiadores en SPARTACUS (Espartaco-1960) junto a Kirk Douglas. Ese mismo año falleció repentinamente de un ataque cardíaco, luego de coordinar una escena de lucha en un programa de la serie THE JACK BENNY SHOW.
---
Ver biografías disponibles en la base de datos
:
A
B
C
D
E
F
G
H
I
J
K
L
M
N
O
P
Q
R
S
T
U
V
W
X
Y
Z

Filmografía parcial

Créditos actorales --<>-- Buscar carátulas de películas con Eddie Parker
All -- Movies -- TVmovie-Video -- TV Episodes
-
SPARTACUS (1960) .... Esclavo / Doble de Riesgo
-
CURSE OF THE UNDEAD (1959) .... Secuaz [como Edwin Parker]
-
MONSTER ON THE CAMPUS (1958) .... el Monstruo
-
MOLE PEOPLE, THE (1956) .... Hombre Topo
-
RANSOM! (1956) .... Policía Motorizado
-
KING OF THE CARNIVAL (1955) .... Hombre
-
THIS ISLAND EARTH (1955) .... Mutante
-
BRIDE OF THE MONSTER (1955) .... Doble: Bela Lugosi
-
SPOILERS, THE (1955) .... Berry [como Edwin Parker]
-
TARANTULA! (1955) .... Paul Lund
-
REAR WINDOW (1954) .... Detective [como Edwin Parker]
-
GUNFIGHTERS OF THE NORTHWEST (1954) .... Doble de Riesgo
-
ABBOTT AND COSTELLO MEET DR. JEKYLL AND MR. HYDE (1953) .... Mr. Hyde
-
GLASS WEB, THE (1953) .... Turista
-
CIMARRON KID, THE (1952) .... Jergens / Doble de Riesgo
-
HORIZONS WEST (1952) .... Norteño
-
HAWK OF WILD RIVER, THE (1952) .... Skeeter
-
GOVERNMENT AGENTS VS. PHANTOM LEGION (1951) .... Payne
-
RACKET, THE (1951) .... Matón del Garage
-
STRANGE DOOR, THE (1951) .... Moret
-
CAPTAIN VIDEO, MASTER OF THE STRATOSPHERE (1951) .... Matón
-
RADAR PATROL VS. SPY KING (1950) .... Dutch
-
DESPERADOES OF THE WEST (1950) .... Secuaz
-
ATOM MAN VS. SUPERMAN (1950) .... Obrero de usina / Doble de riesgo
-
CONVICTED (1950) .... Guardia
-
EDGE OF DOOM (1950) .... Detective
-
INVISIBLE MONSTER, THE (1950) .... Stoner
-
UNDERWORLD STORY, THE (1950) .... Mr. Mullins
-
BATMAN AND ROBIN (1949) .... Holt / Doble de Riesgo: House Peters Jr.
-
FLAXY MARTIN (1949) .... Policía Motorizado
-
GHOST OF ZORRO (1949) .... Jim Cleaver
-
KING OF THE ROCKET MEN (1949) .... Rowan, Tec. Fotográfico (ep. 3-4) / Doble
-
RIDERS OF THE WHISTLING PINES (1949) .... Doble de Riesgo
-
BRUCE GENTRY, DAREDEVIL OF THE SKIES (1949) .... Gregg
-
LAW OF THE WEST (1949) .... Big Mike, un Secuaz
-
RANGE JUSTICE (1949) .... Lacey
-
CONGO BILL (1948) .... Torturador (ep. 8-9)
-
BUD ABBOTT LOU COSTELLO MEET FRANKENSTEIN (1948) .... Doble de Riesgo
-
DANGERS OF THE CANADIAN MOUNTED (1948) .... Lowry / Doble de Riesgo [como Eddy Parker]
-
FIGHTING RANGER, THE (1948) .... Ned Gill [como Edwin Parker]
-
HAWK OF POWDER RIVER, THE (1948) .... Mike Cochrane, el Abogado
-
I WOULDN'T BE IN YOUR SHOES (1948) .... Policía
-
SUPERMAN (1948) .... Camionero
-
TEX GRANGER, MIDNIGHT RIDER OF THE PLAINS (1948) .... Driska, Secuaz de Reno / Doble de riesgo
-
TIOGA KID, THE (1948) .... Clem, un Secuaz
-
WHIRLWIND RAIDERS (1948) .... Red Jordan, un Secuaz
-
ADVENTURES OF FRANK AND JESSE JAMES (1948) .... Secuaz
-
ADVENTURES OF DON COYOTE, THE (1947) .... Joe [como Edwin Parker]
-
13TH HOUR, THE (1947) .... Camionero
-
JACK ARMSTRONG (1947) .... Slade, un Secuaz
-
JESSE JAMES RIDES AGAIN (1947) .... Capt. Flint
-
MILLERSON CASE, THE (1947) .... Tte. Callahan
-
RAIDERS OF THE SOUTH (1947) .... Jeb [como Edwin Parker]
-
SON OF ZORRO (1947) .... Sr. Melton, un Ganadero (ep. 9-11)
-
TRAILING DANGER (1947) .... Riley, un Secuaz [como Edwin Parker]
-
VALLEY OF FEAR (1947) .... Duke [como Edwin Parker]
-
VIGILANTE: FIGHTING HERO OF THE WEST, THE (1947) .... Doc, Secuaz X-3 (ep. 2-15)
-
BELLS OF SAN ANGELO (1947) .... Secuaz
-
SHADOW VALLEY (1947) .... Barney Foster
-
LOST CITY OF THE JUNGLE (1946) .... Guardia
-
CHICK CARTER, DETECTIVE (1946) .... Frank Sharp
-
CLOAK AND DAGGER (1946) .... Agente de la Gestapo
-
CRIMSON GHOST, THE (1946) .... Sherman, un Secuaz (ep. 1, 8)
-
KING OF THE FOREST RANGERS (1946) .... Stover
-
MYSTERIOUS MR. M, THE (1946) .... Mecánico (secuaz) / Doble de Riesgo: Richard Marti
-
PHANTOM RIDER, THE (1946) .... Martin
-
SILVER RANGE (1946) .... Bart Nelson
-
TRIGGER FINGERS (1946) .... Smoke Turner
-
DAUGHTER OF DON Q (1946) .... Secuaz
-
SHADOW RETURNS, THE (1946) .... Matón en el Depósito
-
INNER CIRCLE, THE (1946)
-
DAYS OF BUFFALO BILL (1946) .... Chuck Barton
-
ESCAPE IN THE FOG (1945) .... Of. Sullivan
-
FOG ISLAND (1945) .... Doble de Riesgo: Ian Keith
-
FRONTIER FEUD (1945) .... Sam Murphy [como Edwin Parker]
-
LOST TRAIL, THE (1945) .... Bill [como Edwin Parker]
-
MANHUNT OF MYSTERY ISLAND (1945) .... Capitán de Navío (ep. 1, 8) / Fallon (ep. 12)
-
MONSTER AND THE APE, THE (1945) .... Blake / Doble de Riesgo
-
PHANTOM SPEAKS, THE (1945) .... Policía en el Parque
-
SECRET AGENT X-9 (1945) .... Secuaz / Doble de Riesgo: Lloyd Bridges
-
BLACK ARROW (1944) .... Hank
-
CAPTAIN AMERICA (1944) .... Doble de Riesgo
-
CRIME BY NIGHT (1944) .... Alguacil
-
DESERT HAWK, THE (1944) .... Doble de Riesgo
-
MUMMY'S CURSE, THE (1944) .... Doble de Riesgo: Lon Chaney Jr.
-
MUMMY'S GHOST, THE (1944) .... Doble de Riesgo; Lon Chaney Jr.
-
TIGER WOMAN, THE (1944) .... Secuaces (ep. 3, 4-5, 9, 10, 11)/Oficial (ep. 7-8)
-
HAUNTED HARBOR (1944) .... Doble de Riesgo
-
MYSTERY OF THE RIVER BOAT (1944) .... Doble de Riesgo: Dick Curtis
-
DAREDEVILS OF THE WEST (1943) .... Jim / Indio / Monk Mason / Doble de Riesgo
-
FRANKENSTEIN MEETS THE WOLF MAN (1943) .... Doble de Riesgo: Lon Chaney Jr., el Hombre Lobo
-
G-MEN VS. THE BLACK DRAGON (1943) .... Falso Mayordomo (ep. 12)
-
SECRET SERVICE IN DARKEST AFRICA (1943) .... Karl Koche (ep. 7) / Secuaz (ep. 10) / Doble
-
MASKED MARVEL, THE (1943) .... Meggs
-
PHANTOM, THE (1943) .... Scott, un Secuaz (ep. 9-11, 13-14)
-
ADVENTURES OF THE FLYING CADETS (1943) .... Doble de Riesgo: Pat Flaherty
-
COBRA WOMAN (1943) .... Guardia / Doble de Riesgo
-
INVISIBLE AGENT (1942) .... Matón de Staufer / Doble de Riesgo
-
MUMMY'S TOMB, THE (1942) .... Doble de Riesgo: Lon Chaney Jr.
-
SECRET CODE, THE (1942) .... Berck, un Matón / Doble de Riesgo
-
WEST OF THE LAW (1942) .... Joe, un Guardiaminas
-
FINGERS AT THE WINDOW (1942) .... Chofer de Ambulancia
-
DICK TRACY VS. CRIME INC. (1941) .... Secuaz (ep. 14)
-
GREEN HORNET STRIKES AGAIN, THE (1941) .... Secuaz con Dolan (ep. 3) / Doble de Riesgo
-
SEA RAIDERS (1941) .... Tripulante (ep. 6-9) / Doble: Eddie Dunn
-
SKY RAIDERS (1941) .... Walker, un Secuaz
-
FLASH GORDON CONQUERS THE UNIVERSE (1940) .... Guardia Arbóreo (ep. 10) / Doble: Buster Crabbe
-
GREEN ARCHER, THE (1940) .... Doble de Riesgo: Victor Jory
-
MYSTERIOUS DOCTOR SATAN (1940) .... Chuck, un Secuaz (ep. 8) / Doble de Riesgo
-
RAGTIME COWBOY JOE (1940) .... Alguacil
-
RANCHO GRANDE (1940) .... Secuaz
-
SKY MURDER (1940) .... 2do. Policía Motorizado
-
VIRGINIA CITY (1940) .... Teniente
-
WHEN THE DALTONS RODE (1940) .... Mason, Secuaz de Rigby
-
JUNIOR G-MEN (1940) .... Camionero (ep. 1)
-
WINNERS OF THE WEST (1940) .... Secuaz / Doble de Riesgo: Dick Foran
-
DAREDEVILS OF THE RED CIRCLE (1939) .... Pete, Jefe del Pozo Petrolífero (ep. 1-2, 11)
-
MANDRAKE, THE MAGICIAN (1939) .... Eddie, un Secuaz / Doble de Riesgo: Al Kikume
-
ANOTHER THIN MAN (1939) .... Oficial
-
BUCK ROGERS (1939) .... Guardia / Doble de Riesgo: Buster Crabbe
-
DESPERATE TRAILS (1939) .... Doble de Riesgo: Ralph Dunn
-
DICK TRACY'S G-MEN (1939) .... Secuaz del Dique (ep. 7-8) / Doble de Riesgo
-
LONE RANGER RIDES AGAIN, THE (1939) .... Hank, un Secuaz [como Edwin Parker] / Doble
-
MEXICALI ROSE (1939) .... Mecánico / Doble de Riesgo
-
MYSTERIOUS MISS X, THE (1939) .... Doble de Riesgo: Don Douglas
-
NANCY DREW AND THE HIDDEN STAIRCASE (1939) .... Policía Motorizado
-
SON OF FRANKENSTEIN (1939)
-
SCOUTS TO THE RESCUE (1939) .... Joe (ep. 1) / Doble de Riesgo: William Ruhl
-
DICK TRACY RETURNS (1938) .... Burton / Doble de Riesgo
-
FIGHTING DEVIL DOGS (1938) .... Doble de Riesgo: Lee Powell
-
FLASH GORDON'S TRIP TO MARS (1938) .... Soldado Marciano
-
HEART OF THE NORTH (1938) .... Gonzales, un Secuaz
-
SPY RING, THE (1938) .... Reportero
-
MEXICALI KID (1938) .... Doble de Riesgo
-
RED BARRY (1938) .... Taxista (ep. 2, 10, 12) / Sirviente (ep. 4)
-
TROUBLE AT MIDNIGHT (1938) .... Doble de Riesgo
-
GAMBLING TERROR, THE (1937) .... Doble de Riesgo
-
GIT ALONG LITTLE DOGIES (1937) .... Secuaz
-
GOD'S COUNTRY AND THE MAN (1937) .... Condestable Bill Briggs [como Ed Parker]
-
JUNGLE JIM (1937) .... Doble de Riesgo: Grant Withers
-
RADIO PATROL (1937) .... Oficial / Obrero del Molino / Doble: Grant Withers
-
SECRET AGENT X-9 (1937) .... Guardamarina / Agente Crain (del FBI) / Doble
-
TIM TYLER'S LUCK (1937) .... Secuaz / Doble de Riesgo
-
ACE DRUMMOND (1936) .... Co-Piloto (ep. 1) / Dmitri (ep. 7-8, 10)
-
BULLDOG EDITION (1936) .... Repartidor de Diarios
-
AMAZING EXPLOITS OF THE CLUTCHING HAND, THE (1936) .... Secuaz / Doble de Riesgo
-
CROOKED TRAIL, THE (1936) .... Doble de Riesgo
-
DARKEST AFRICA (1936) .... Centinela / Doble de Riesgo: Edmund Cobb
-
DESERT PHANTOM (1936) .... Doble de Riesgo
-
UNDERSEA KINGDOM (1936) .... Guardia del Khan (ep. 2-3, 6)
-
VALLEY OF THE LAWLESS (1936) .... Doble de Riesgo
-
FLASH GORDON (1936) .... Soldado de Ming
-
ADVENTURES OF REX AND RINTY (1935) .... Guardia / Doble de Riesgo
-
COURAGEOUS AVENGER (1935) .... Wellford, un Secuaz
-
FIGHTING MARINES (1935) .... Olson / Doble: Grant Withers y Adrian Morris
-
NEW FRONTIER, THE (1935) .... Pete, un Secuaz / Doble de Riesgo
-
PARADISE CANYON (1935) .... Doble de Riesgo
-
RAINBOW VALLEY (1935) .... Guardia
-
WEREWOLF OF LONDON (1935) .... Doble de Riesgo: Lester Matthews
-
WESTWARD HO (1935) .... Ed, un Secuaz
-
CALL OF THE SAVAGE, THE (1935) .... Guardia Imperial
-
TEXAS TERROR (1935) .... Doble de Riesgo
-
GHOST RIDER (1935) .... Quirt un Secuaz [como Ed Parker] / Doble de Riesgo
-
BURN 'EM UP BARNES (1934) .... Cameraman / Doble de Riesgo
-
LAWLESS FRONTIER (1934) .... Doble de Riesgo
-
LUCKY TEXAN, THE (1934) .... Al Miller [como Ed Parker]
-
MAN FROM UTAH, THE (1934) .... Doble de Riesgo
-
'NEATH THE ARIZONA SKIES (1934) .... Secuaz / Doble de Riesgo
-
STAR PACKER, THE (1934) .... Parker, Secuaz [como Ed Parker] / Doble de Riesgo
-
TRAIL BEYOND, THE (1934) .... Ryan, un Policía Montado / Doble de Riesgo
-
WEST OF THE DIVIDE (1934) .... Doble de Riesgo
-
RIDERS OF DESTINY (1933) .... Doble de Riesgo
-
SAGEBRUSH TRAIL (1933) .... Doble de Riesgo
-
WHISPERING SHADOW, THE (1933) .... Gus, un Chofer (ep. 1) / Doble de Riesgo
-
HURRICANE EXPRESS (1932) .... Co Piloto (ep. 1, 6) / Doble de Riesgo
Links externos